Explore our favorite local eateries
We've carefully curated a list of fantastic restaurants located in the Pasadena area for anyone looking for a savory meal, any time of day, offering curbside pickup, takeout, and delivery. Ted Clark and Heather Lillard personally recommend each location on this list and have included some of their favorite dishes. If you trust their opinion on real estate, you should give their favorite eateries a chance, too!
Whether you're in the mood for handmade sushi rolls or Texan-style breakfast tacos, something on this list will be a match made in heaven for you. Who knows? Maybe you'll even find your new favorite go-to restaurant!


Green Street Restaurant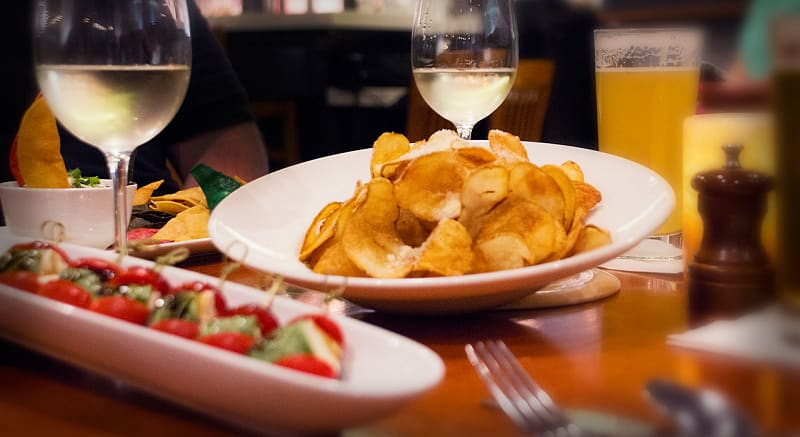 Credit: Green Street Restaurant
A paragon of Pasadena innovation since 1979,
Green Street Restaurant
is one of the few places you'll find that is capable of making a steak to-go still taste fantastic.
Famous for their Dianne Salad—a filling meal of tender chicken tossed with crispy Asian noodles, shredded lettuce, toasted almonds, and sesame seeds—Green Street is a must for Pasadenans seeking savory Californian cuisine.
They even offer a special Steak and Dianne boxed dinner that includes the yummy salad alongside an 8 ounce New York steak, homemade zucchini bread, and your choice of a cookie or brownie. Additional boxed meals include the salmon and quinoa dinner, Thai chicken and brown rice salad, and parmesan chicken with grilled vegetables and a field green salad.
The team at Ted and Heather often kick off their Mondays by putting in an order at the restaurant, which is made easy by the fact that they offer curbside pickup. It's something to look forward to and a great way to start your week!


Heirloom LA
Vegans and vegetarians flock to
Heirloom LA
, a haven for healthy eating. Offering gorgeously prepared meals teeming with organic produce and fresh ingredients, the restaurant is beloved by those looking to go green.
Even better? Heirloom LA gives back to their community by donating 25% of the purchase price of their Farmer's Market Boxes toward delivering nutrient-rich meals to hospital workers and those who are food insecure every Monday. Their Farmer's Market Boxes are beautiful arrangements of newly-harvested fruits and vegetables, bringing the farm straight to your door!
While considered a hotspot in the area these days, Heirloom LA first started in 2008 when two culinary artists, Matt Poley and Tara Maxey, got together to create their trademark Lasagna Cupcakes, designed as comfort food in the palm of your hand!
As their business increased, the duo came up with the name Heirloom LA and made it their mission to help customers understand that healthy eating should be a right, not a privilege. They believe everyone should know where their food comes from, how it's grown, and what goes into it during every stage of preparation. Food education and welfare are the cornerstones of their business.
They also offer curbside pickup and delivery on Thursdays and Sundays.


HomeState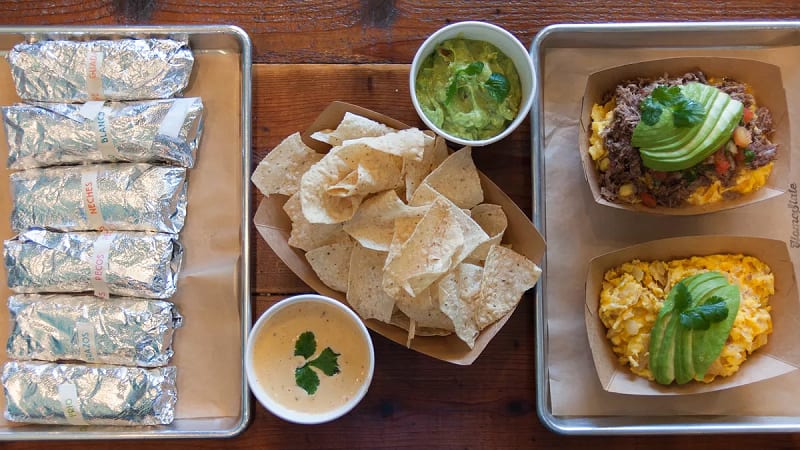 Credit: LA Eater
With locations in Hollywood, Highland Park, and Playa Vista,
HomeState
dishes up hipster Texas-style tacos in the Greater Los Angeles area. Texas may not have created the breakfast taco, but they certainly fine-tuned it, and it has become an integral part of San Antonio cuisine.
Best known for their queso, breakfast tacos, and margaritas, HomeState is a one-of-a-kind eating experience. Brisket is a Lillard family favorite, and you should absolutely try it if you plan on visiting for some savory quick bites. The best part about dining at this taco stand? It won't come even close to breaking the bank.
The majority of their menu items are less than $10, including all of their famous breakfast tacos. Each one comes with your choice of a HomeState flour or Kernel of Truth corn tortilla. Not much is more filling and sumptuous than a savory breakfast taco. If you've never had one before, you don't know what you're missing! They even offer a vegetarian option with their delicious potato and egg taco.
HomeState has expanded its options with curbside pickup for their incredible tacos and a "pantry" pickup consisting of dairy, produce, amazing homemade tortillas, salsas, and guacamole.


The Raymond 1886
The Raymond 1886
is a charming restaurant housed in the caretaker's cottage at the original Raymond Hotel. Not everyone knows that this speakeasy-style bar nestled in the back of the restaurant is quite the hidden treasure. Their acclaimed cocktail bar offers an award-winning wine list and signature handcrafted cocktails. Alongside their fantastic to-go menu, they also sell their cocktails in adorable to-go mason jars!
Perhaps one of the biggest draws to this cozy hideaway is its fusion of contemporary food in a historical setting. Dining here will introduce you to a carefully-curated menu featuring many global influences. The chefs mix things up in the kitchen by alternating between contemporary and classic cooking techniques, adding an exotic flair to the variety of dishes offered.
Part of the charm of this restaurant is basking in colorful Pasadena history. While the old hotel may have been destroyed during the Great Depression, the caretaker's cottage maintains the spirit of the original Raymond Hotel.
In light of the ongoing pandemic, 1886 has tweaked their availability and has made it easier than ever to grab food on the go. As well as their traditional brunch, lunch, and dinner menus, they also offer great deals on Taco Tuesdays! Plus, you can get takeout, curbside pickup, or delivery. Recently, they've reopened their doors for outdoor patio dining.


Home Brewed Bar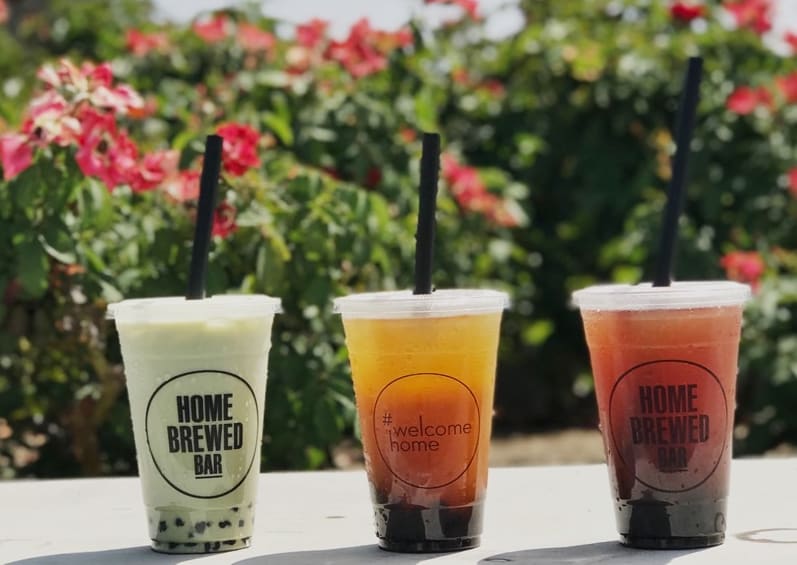 Credit: Home Brewed Bar
On the edge of Old Town Pasadena, you can find this small coffee shop. Specializing in cold brew coffee and tea,
Home Brewed Bar
is the perfect place to meet up for a quick bite or find some solace while you work. For non-dairy drinkers, they offer an assortment of milk alternatives, such as hemp, almond, rice, and soy milk.
You can further customize your drink with options like agave-soaked boba. Their cold brew teas and coffee stand out from their competitors because they brew them for 20 hours, making them less acidic and bitter-tasting.
Among some of their most popular drinks are their Lychee Oolong Milk Tea and the Cold Brewed House Coffee with Pistachio. With two styles of tea and ten assorted flavors of coffee, there are plenty of options to choose from at Home Brewed Bar.


Sushi Roku
If you're craving sushi,
Sushi Roku
is one of the best places to order from, and they have a variety of dinner plans to make your meal engaging, fun, and delicious. They have a Hot Family Pack dinner that feeds four as well as an awesome Create Your Own Hand Roll Kit, which includes sushi rice, vegetables, and an assortment of fish.
Among some of the choices for their "create your own" kit are albacore, snow crab mix, spicy tuna, yellowtail, and more! For individuals, you can get a smaller-portioned bento box with garden salad, vegetable fried rice, popcorn shrimp, and your choice of protein over sauteed garlic green beans.
Sushi Roku employs experienced sushi chefs with the ability to combine traditional sushi-making skills with Californian innovation. You're not likely to find anywhere else in the area that serves such fine, fresh fish while fusing these ingredients with breathtaking artistry.
Not only is the restaurant a pioneer in creating contemporary sushi, but they also import non-traditional ingredients straight from places like Latin America and Europe. Dining on such bold and diverse flavors will turn you into a sushi purist, and soon enough only Sushi Roku can provide you with the fix you're after.


Mint Leaf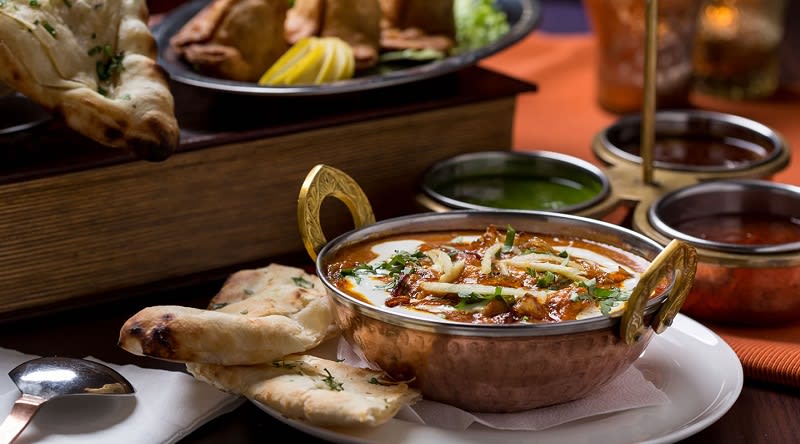 Credit: Mint Leaf
According to Heather, this traditional Indian restaurant is the best place for Indian cuisine in Pasadena. Their menu boasts a wide selection of Indian classics, all made in elevated Indian tradition. You can also choose your spice level to customize each dish to your liking.
From delectable samosas to chicken pakoras,
Mint Leaf
has a wide variety of options on their menu. Lunch specials include classic chicken tikka masala, which has tandoor-roasted chicken breast pieces coated in a creamy tomato curry sauce.
For seafood lovers, be sure to try their kadhai shrimp, made with cumin and coriander spiced shrimp with onion, tomato, and bell pepper stir fry basted in red curry sauce. Vegetarians can enjoy dishes such as wild mushroom and spinach curry corn, aloo methi, matter paneer, sag aloo, and mushroom curry.
Some dishes can be made dairy-free by request. Ordering online is fast and easy with a link on their website directly to DoorDash, and they also offer takeout.
If you're eager to learn more about moving to Pasadena or Pasadena luxury real estate,
contact
today for more information about the community. Filled with hundreds of young professionals, families, and forward-thinkers, Pasadena is just a phone call away from becoming your new home.