Now that we are accustomed and would consider working from home more we've been thinking about our home office again.
Having the right space is essential, and your home office needs to be an environment conducive to productivity. It's the one part of a home designed to inspire, motivate, and put you in the best headspace possible to get work done.
When the pandemic hit, kids took over our home office AND dining room AND kitchen table for at-home school. I had to carve out a space for my "office." This small clean-lined
Parson desk
has been perfect because I could squeeze it into our bedroom. The trick is keeping it tidy... hence the basket below where I stash everything.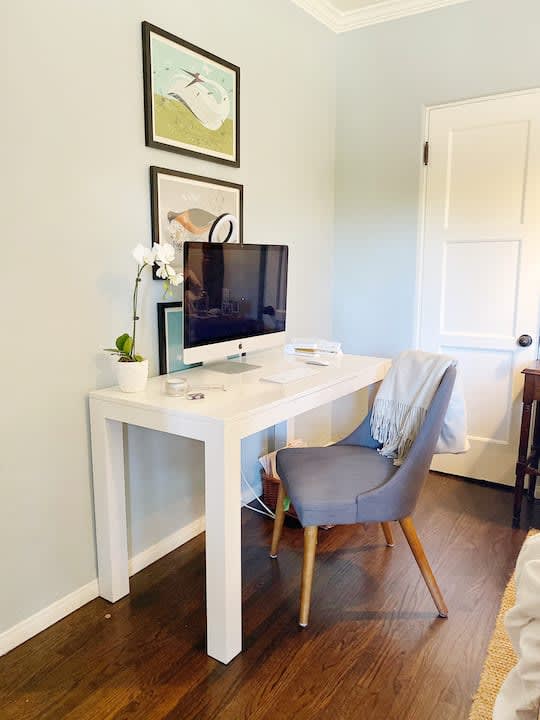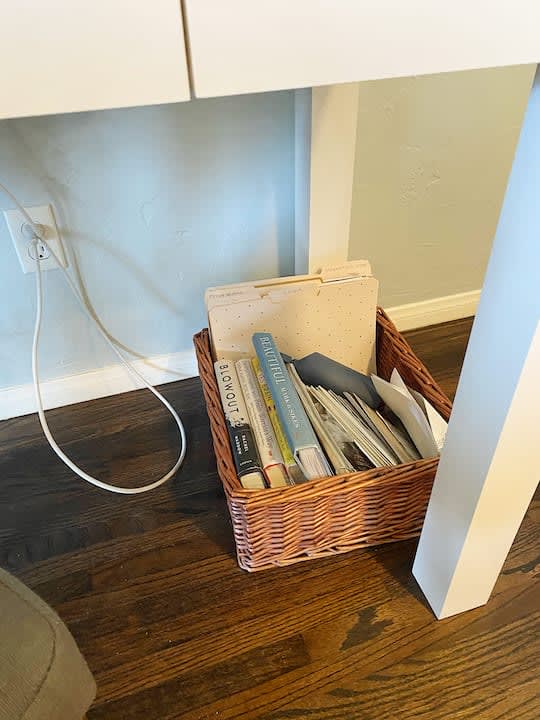 Even if you don't have a dedicated room for a home office, there are small things you can do to make your current workspace closer to a home office and set up a home office anywhere. We've rounded up some key tips and furniture that are great for when you are trying to set up a home office.
1. A good desk is key
A sleek, stylish and functional desk is one of the most important components of a home office. It might sound obvious, but you'd be surprised by how many home offices eschew a desk and opt for smaller tables rather than a dedicated workspace. And for those in smaller spaces where a dedicated home office isn't possible, working on a desk is still better for a room than trying to work on the kitchen table or the couch.
We've rounded up some of our favorite desks for home offices that are practical and will look great across different decor and aesthetics.
Our first choice is definitely the
Aliyah 36'' Solid Wood Desk.
It's a good-sized desk, so it won't take up tons of room and works in larger and smaller home offices or different areas of the house if there isn't a dedicated office. It's available in a variety of colors, and the additional drawers are a great feature for those looking for some extra storage space.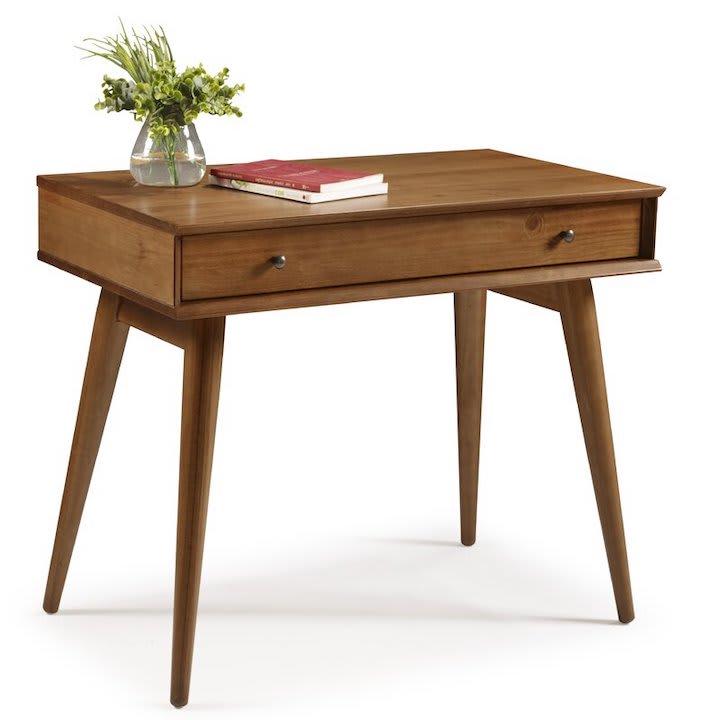 If space is an issue, the
Orion 28.3" Console Table
by Wayfair can be an excellent choice if paired with an ergonomic chair. It's a bit higher up, so you won't have to hunch over too much, and it has enough room for at least a laptop, keyboard, and mouse so that it can work as a home office desk.
For a more bold and dramatic choice, the
Mid-Century Fold Out Desk
is a beautiful home office desk that offers extra storage space and plenty of room to spread out everything you need to get work done. And of course, we also enjoy using a
standing desk
as an option if you'd rather not sit too much.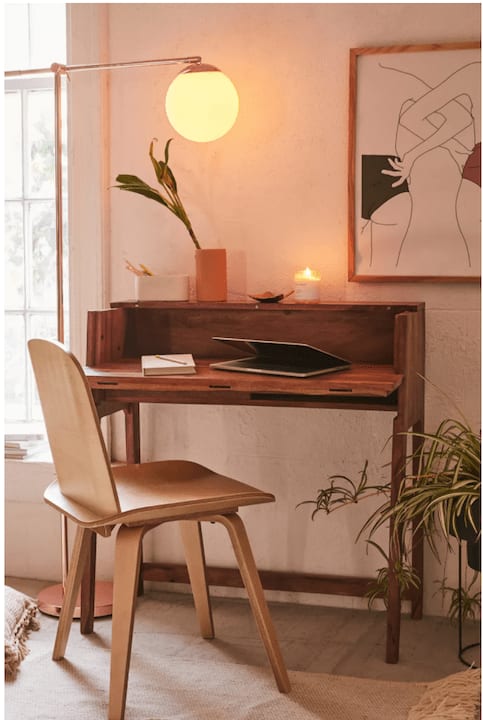 2. Add some plants
Once you've picked out your desk for your home office, it's just as important to look at your surroundings and spruce it up as much as possible. You should be happy to come into your home office whenever possible, even if it's just a dedicated space rather than an entire room. A cheap and fun way to do this is to add some plants around your workspace. You can add these either right on your desk or around the room. The greenery will make you feel happier and calmer, and you can always distract yourself by watering the plants when you need a bit of a break.
Or you can opt for low-maintenance plants that add a decorative touch. We'd recommend something like a snake plant or small succulents if low-maintenance is your focus. If you don't mind paying a little attention to your plant, you can choose a trailing plant like money plants that might need a little bit more TLC, and can add some freshness to the room!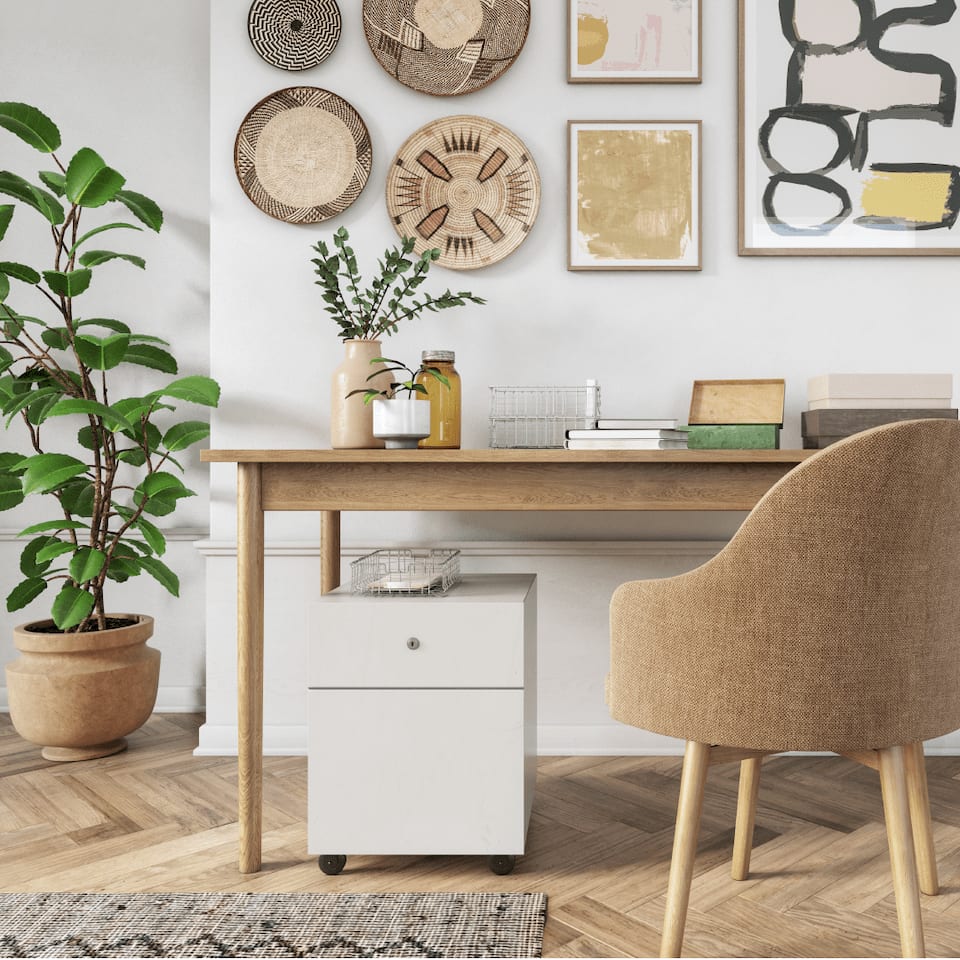 3. Storage makes a difference
Clutter can stress you out. You might not realize it initially, but seeing a perpetually messy desk might not make you feel the best. So if you're looking to destress a bit and set up a great home office, we would recommend an additional storage area. While some of the desks we've recommended come with storage features, you might also want to look into other storage options to streamline your home office desk setup.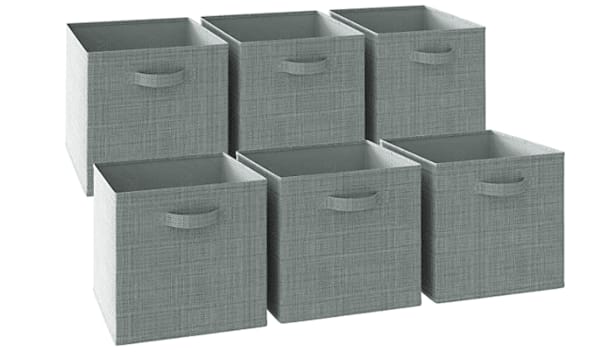 You can always get inexpensive storage options such as
storage cubes
since they don't take up too much space but get the job done. Or you can go for a small filing cabinet, such as a
rolling file cabinet for your home office
. A simple addition, it can go a long way in helping you feel more organized, and you can always take a break to put things away when you need to! It's a more productive form of procrastination that can give you some more energy to back into the day.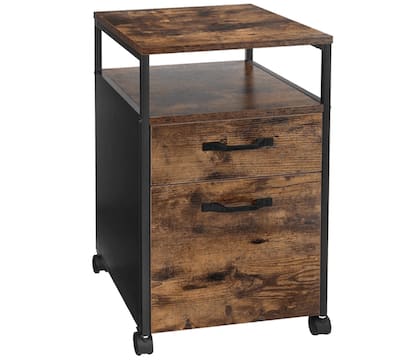 If your current home office just isn't working and you're thinking about moving to a new home and build your dream office, contact
Ted Clark and Heather Lillard
. As experienced Pasadena real estate agents, Ted and Heather can help you find your dream home with the space to set up a home office as you need.